The Sagittarius Lunar Eclipse on May 24- 25 is one of the most powerful Full Moons of 2013.  The Sagittarius Lunar Eclipse is the third of three eclipses in a row.  This eclipse also involves a SuperMoon, when the Moon is as close as it ever gets to the Earth, and it's in a straight alignment with the Sun and Earth. The SuperMoon makes this Lunar Eclipse extra potent and important.
The Moon controls the oceans and tides.  Our bodies are more than sixty percent water.  You will feel this powerful Lunar Eclipse in your physical body and in the Earth below your feet.  This Sagittarius Lunar Eclipse can feel like a soothing, healing balm on your aching wounds.  The Cosmic Mother Nurses her children back to full health and vitality.  The Phoenix rises from the ashes of the past.  You, too, can recreate yourself and make a fresh start.  You can experience a Brilliant Breakthrough.  That is this Full Moon's message.
Sagittarius empowers you stay on your path.  Even when the road twists and turns, you can feel vibrant, healthy, and strong.  How do you do this?  Keep your mind engaged and focused on inspired action.  Invest your energy in healing yourself and introducing innovations into your life wherever you are ready for expansion and fulfillment.
Pluto and Uranus make an exact square (challenge) on May 20.  Pluto and Uranus require you to make significant changes.  For instance, many people are experiencing job changes, long-term relationship completions, health issues, and/or financial problems.  Is it any wonder you might feel overwhelmed or fearful due to the changes happening to you?  You are trying to maintain your balance, keep your spirits up, stay positive, and move forward.  This can be a daunting task.
Your current process (journey) is as important as your destination.  You can choose to be positive and proactive, even while your growth is swift and painful.  Attitude is everything.  The more willing you are to do inner work and take full responsibility for your choices and behavior, the more you can turn obstacles into stepping-stones.
Experiencing a Brilliant Breakthrough may require that you raise your standards and upgrade your relationships.  It is time to be in integrity and practice the Golden Rule, "Do unto others as you would have them do unto you."  It is also time to speak your truth, and choose what is right for you—this is true empowerment.  You are the master of your destiny.  You create your reality by your words and actions.  Remember that when you do what is right (heart-centered) for you, it is right (real love) for everyone else.
♥  What does your heart really want?
♥  What is right for you?
♥  What is right livelihood for you?
♥  What is your right living location?
♥  What is the right relationship for you?
♥  What is your right life path?
You Can Breakthrough to a New Life of Your Design.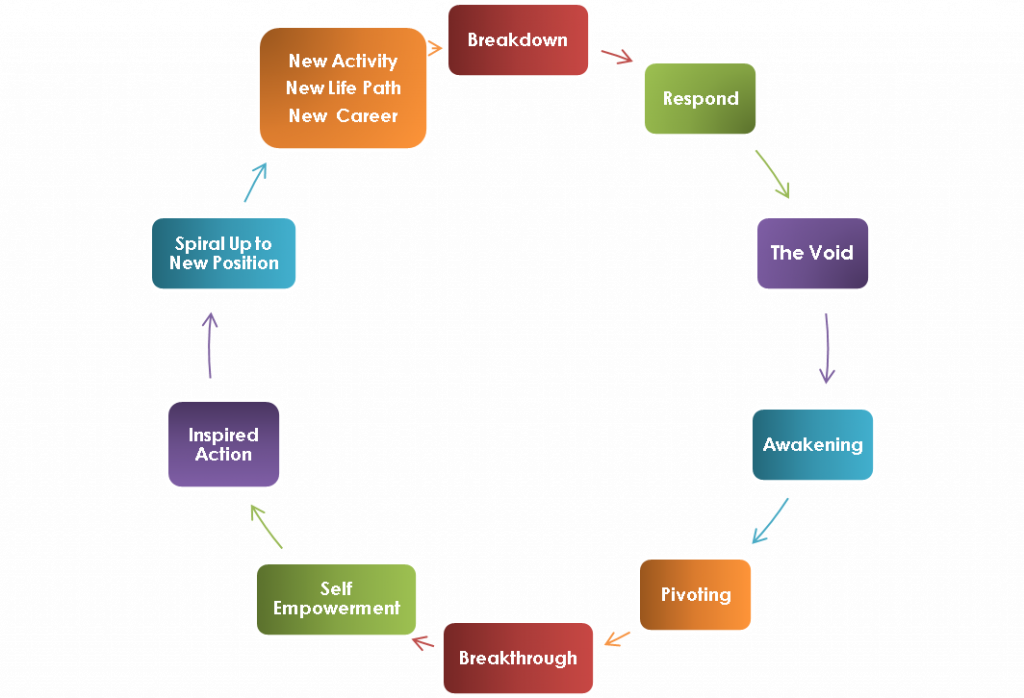 Breakdown to Breakthrough Process
You can move from fear to freedom. Love can conquer fear.
Is your heart into what you are choosing for yourself?  It is time to choose wisely.  If you do not, your choice could lead to a false start and waste your precious time, resources, and energy.
Pluto and Uranus are reminding you that it is time to release resistance.  Are you resisting the changes taking place in your life?  Choose your battles wisely.  Hang loose on making judgments about what is happening—you may not have a full understanding of unfolding events.  What seems to be negative on the surface could turn out to be a blessing in disguise.  It might also be a Brilliant Breakthrough that leads you to a better, more fulfilling life.
You may find yourself at the end of a relationship, a job lay-off, or a business closing.  You can feel as though you are operating in crisis mode.  Circumstances for those around you may also seem to be falling apart.  In truth, you are in completion mode.  These events are not always graceful, so go easy on yourself.  You may feel less than a Self-master.  You may feel more like a lost soul.  Take comfort, for you are not alone.  Everyone is experiencing these life-changing events.
This experience may even feel like a death of sorts.  Each of us has our own timetable for this process.  Do not rush the process of breakdown.  Do not stay too long in grief or the void.  People and organizations that deal well with change are prepared for the inevitable emotional stages of the change process.  In her seminal research on death and grief, Dr. Elizabeth Kübler-Ross chronicled six recognizable stages:  denial, anger, bargaining, depression, acceptance, and hope.
These stages seem most likely to manifest when 1) change is externally imposed, and 2) something of value is being lost or given up because of the change.  During the breakdown phase, you may find yourself in denial and depression.  You then move on to hope and acceptance.  You can jump around quite a bit in the first few months after endings.  For instance, we can feel acceptance, then flip into denial and hope, then reverse into anger.  Each of us will process grief in our own unique way.  There are no short cuts to growth.  Please be patient with your process, and allow your life to unfold naturally.
The Sagittarius Lunar Eclipse encourages you to unite your heart and head. Venus and Mercury bond at the Full Moon. You are to live from your heart. Use the power of your mind to design the life that works for you. Saturn and Neptune are forming a long-lasting trine (harmonious energy flow). Pluto is sextile (supportive relationship) to both Saturn and Neptune. Their benevolent relationship encourages us to make our dreams real and powerful.
Saturn/Neptune/Pluto singing in harmony is an awesome astrological event. Their healing and empowering energy will be serving us through the summer. Dreamy Neptune does closely T-square the Sun and Moon at the Eclipse. We may have to keep our feet on the ground and not float away. Neptune is reminding us that we do not get what we want. We get what we believe. Neptune will challenge you to use your intuition and your instincts when making right choices.
♠  What is truth for you?
♠  What is fantasy?
♠  What would you dare to dream and do if you knew you could not fail?
May ends with a wonderful Venus/Mercury/Jupiter conjunction.  Its uplifting energy will stimulate your personal interactions, expansion of consciousness, and positive pursuits.
"Stay in Beginner's mind.  Trust what feels right.  Think with your heart.  Look for what's true now."
  — Stephanie Austin
"Everything that I think that I need to do is all only in order to propel me to some place that when I get there, I think I will be happier. So, everything that I am doing, no matter what it is, all of my lists of rights and wrongs… are all about me getting to a manifestation that I believe I will then be happier… So, why don't I take a short cut and just go get happy?"  ~ Abraham
Love and Peace,
Kelley Rosano
Forecast Reading – Venus
Forecast Reading – Mars
Happy Sagittarius Lunar Eclipse!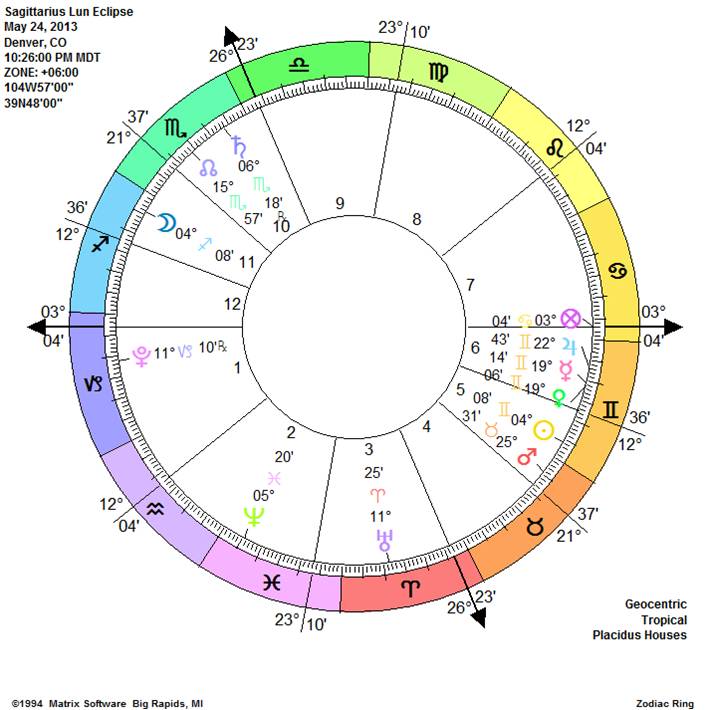 May/June Astrological Events
Uranus and Pluto exact square May 20
Sagittarius Full Moon Lunar Eclipse May 25
Mercury enters Cancer May 31
Mars enters Gemini May 31
Venus enters Cancer June 2
Neptune retrograde June 7 — November 13, 2013
Gemini New Moon June 8
Sun enter Cancer June 21
Capricorn Full Moon June 23
Jupiter enters Cancer June 25
Mercury Retrograde June 26 — July 20, 2013
Venus enters Leo June 27
Thank you for liking, sharing and subscribing!
 Your Awesome!

 For a detailed look into your personal, relationship, health and financial astrology
Schedule Your Astrology Session with Kelley
All our Astrology reports, such as our popular Astro*Talk, provide you with a detailed analysis of your birth chart. Astro*Talk is road map of who you uniquely are. Astro*Talk shows you where you are going in on your life path.
The Friends report and The Lovers report reveal not only how you approach relationships in general. The Friends Report and the Lovers Report show how you get along with a particular lover and/or friend. What is just as important? How they feel about and get along with you.
Any one of our Forecast Reports takes you as you are today. We then proceed to lay out a road map of where you might be tomorrow, the day after that, and for months ahead.
Thank you for liking our reports. You Rock!