The Taurus Full Moon on November 17 is shining the light on what you love and value. When your goals are aligned with your core values,  your success is promoted. Your power is in the choices you make today. Your freedom and joy is in your ability to live authentically and in alignment with your core values. What you love and value is unique to you. It makes you what you are. What you are in truth is far more important that what you do. The world defines you by what you do. This is limiting. Who and what you are in truth is much more interesting and mysterious. The Taurus Full Moon is about finding the Gold in You.
What is true for you?

What are your core values?

What gives you passion?

What gives your life meaning?

What would you do with ten million dollars?  
Taurus reveals your attitude toward money, security and pleasure. Taurus rules your inner resources. These are your talents, gifts and abilities. Taurus rules your outer resources. These are your investments (time, energy and heart). Are you using your inner and outer resources to create the life your want? Taurus rules the second house in astrology. Your second house is anything you put the word "my" in front of, my house, my car, my partner, my dog and so on. These reveal what you love and value. Whatever sign you have on the second house shows how you manage your money, self-worth and possessions. Having Scorpio on the second house you may be secretive about your money and hold hidden resources. That your partner may not know about. Having Taurus on your second house you will value your resources, desire comfort and beauty.
Venus is Taurus ruling planet. Venus is in Capricorn. She will have a long visit in Capricorn from November 5 — March 5, 2014. This is because she retrogrades on solstice December 21 — January 31, 2014. It may feel odd going into the New Year with such a personal planet as Venus in reverse. Venus is coupled with Pluto and challenged by Uranus at the Full Moon. You may have unmet needs and desires screaming to be heard. Do not step over tolerations. Venus is showing you what you need to change.
The ongoing Pluto Uranus square is blowing apart the structures, patterns and beliefs that no longer serve your soul evolution. Those in power that have been able to doge their karma thus far will finally be getting their dues. This will make for some interesting headline news in the coming weeks and months. The chickens are coming home to roost. Creator's cleansing fire will reveal what we are truly. There is no place to hide from God. Only Love and Truth can thrive in the months and years ahead. The meek shall inherit the Earth.
There is a Heliocentric T-Square at 11 degrees with Pluto, Uranus and Jupiter. This aspect is exact on November 23.  Heliocentric astrology is based on your position on the Sun. That is if you were literally standing on the Sun looking out at the Milky Way. This T-square will bring a tremendous release of tension which will be felt throughout the whole solar system. All are one. What we do on Earth affects all of cosmos.
Taurus rules what you love and value. Scorpio rules what other people love and value. What your partner loves and values. The Taurus Full Moon is revealing the polarization between what you want and need versus what other people want and need. "What's mine?" asks the Taurus Moon. "I desire truth" says the Scorpio Sun. Finding the middle ground is not always easy to do. Yet, it is a healthy exercise at the Taurus Full Moon. Balance is the key to lasting relationship and success. Being able to have empathy and compassion for others is vital. This promotes healthy relating. On the one hand, if harmony is not possible now in your personal life and/or work situation. Use this time to create your exit strategy. Always have a plan and until you're ready to reveal it. Keep it secret. Keep it safe.
On the other hand, think about what changes you can make deep within you to promote the change you want in your relationship, work and life. Before you see the change in your world, change needs to occur within you first. You can sabotage your own success by resisting change. Being stubborn can appear as strength on the surface. In truth, this can be your fear masking your needed changes. The Scorpio Sun is championing you to move past your fears and clean out the closets of your mind. Halloween is over. It is time to be rid of those pesky skeletons (fears) hanging around. The Scorpio Sun wants you to own your power. Reclaim your shadow side and release what no longer serves you. Choose love not fear. Be fearless.
Chiron in Pisces moves direct on November 19.  Chiron is the wounded healer. He can empower you to find healing and new solutions to your nagging problems. The body is the messenger. Make sure to take good care of you. The Ascension process is ongoing. It is the hardest on the physical body adjusting to the higher energies. The Love/Light energy is pouring down from the heavens. This is taking a toll on your body. Rest, eat whole foods and drink plenty of water. Water cleanses the toxins out of your body. Be proactive. Attitude is everything. Playing the role of the victim gives your power away to other people and/or society. Own your power. Take responsibility for what is happening with you. This is only way to get where you want to go and create positive results. There are no victims only volunteers. No one can do anything to you unless you let them. Get in the driver seat and take charge of your life. Choose to be proactive.
The Sun sails into Sagittarius on November 21. This year has been a year of water power. This is awesome for the water and earth signs. The fire and air signs have been greatly challenged to navigate the floods. Jupiter is in Cancer. Saturn is in Scorpio. Neptune and Chiron are in Pisces. Many of us have been doing the dog paddle all year. Some of us have swimmers ear after being too long in the water. How uplifting to have the Sun move into fiery Sagittarius.
However, the Sagittarius Sun squares Neptune on November 24. You could be highly idealistic today. Don't get discouraged if you're tired and your goals feel out of reach. This is temporary. Clarity and increased energy will return to you by Thanksgiving. Keep an attitude of gratitude. Thank you God for (fill in the blank), this practice will attract to you what you want and need.  Negative thinking is a luxury you cannot afford. The Law of Attraction is always matching what you think, say and do. Be proactive even if everything around is you is going to hell in hand basket. Find one thing that you can be positive about. This will pull you up and out of the well of darkness. You cannot have a happy ending to an unhappy journey.
The Taurus Full Moon message is to align your goals with your core values. This will promote your success. You can use the True Value Program and True Value lists to discover your core values. The Taurus Full Moon is reminding you to create your own safety and security. Safety and security are found in your mighty I Am Presence–your Higher Self. This is the mountain of the Lord. November ends while rising out of the depths of Scorpio into the exuberant light of Sagittarius. Jupiter is Sagittarius ruling planet. Expansive Jupiter and master builder Saturn form a fabulous water trine (supportive energy flow) that lasts through the end of December. This can empower you to make your dreams come true. The Jupiter/Saturn aspect is encouraging you to reach your goals and build security for yourself. Be true to yourself.
Hold a secure position within you. Make sure to consider yourself in all manner of involvement. Make an allegiance to what you have and what you are doing. Find the gold in you. You are creating your reality though your thoughts, words and behavior. You can choose to be the victor or the victim. In other words, you can own your power. Or you can give it away. You get to choose. Choose to be empowered. Choose love not fear. Go for your heart's desire. There is a distinction between those that are successful and those that are not. People who are successful never gave up. Failure is not an option. You have to stay hungry. Never surrender your dreams for a better future. Your best is yet to come. The best days of your life are ahead of you. The one you are waiting for is you.
Love and Peace,
Kelley Rosano

"Law of Attraction abounds, and when it is said to you, "Ask, and it is given," there is no more powerful statement that is at the basis of what makes things happen than that. Now, how is it that you think you ask? With your words? The Universe doesn't hear your words. You ask with your desire. The desire that is born out of the contrast. That desire. That wanting. That's what summons the Life Force." — Abraham
Happy Full Moon in Taurus.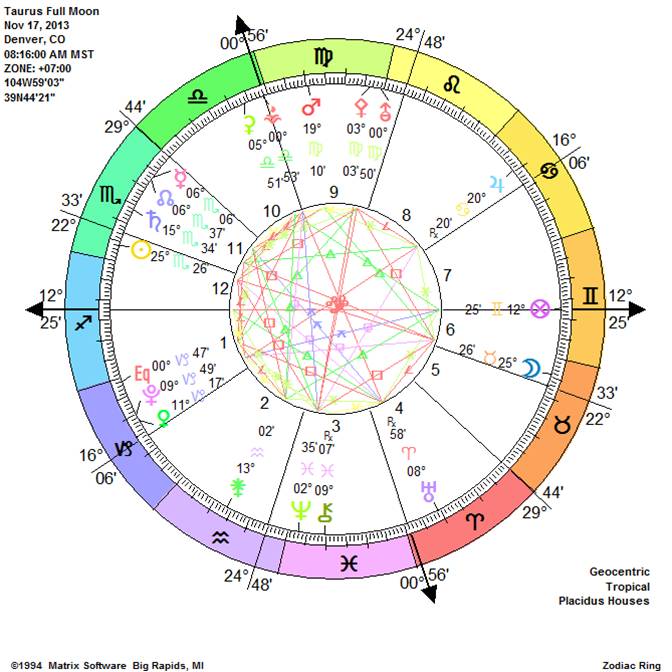 November/December Astrological Events
 Neptune direct November 13.
Venus square Uranus November 14.
Venus conjunct Pluto November 15.
Taurus Full Moon November 17
Chiron direct November 19.
Sun enters Sagittarius November 21
Sun squares Neptune November 24
Sagittarius New Moon December 2
Mercury enters Sagittarius December 4
Mars enters Libra December 7
Jupiter trine Saturn December 12
Gemini Full Moon December 17
Uranus direct December 17
Sun enters Capricorn December 21
Venus retrograde December 21
Mercury enters Capricorn December 24
Sun conjunct Mercury December 29
Sun and Mars square Uranus December 30
Mercury conjunct Pluto square Mars December 31
Capricorn New Moon January 1, 2014

 Pure Kelley
 Thank you for liking, favoring, sharing and subscribing!
 You Are Awesome!
For a detailed look into your personal, relationship and financial astrology.
Schedule Your Astrology Session
Do you have a problem, challenge and/or an area of concern that you want coaching on?
 Schedule Your Coaching Session
Your November "Kelleyscopes" are live!

 You can download your Astrology Forecasts on iTunes!