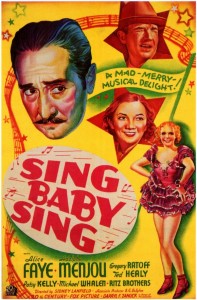 There is a New Moon in Taurus on May 17-18. Taurus rules what you love and value. Taurus is about beauty and comfort. Taurus is your talents and gifts. Everyone is born with his or her own personal talents and gifts. It also reveals your attitude toward money. Love and Money are the same energy. Venus is the ruler of Taurus. She is the Goddess of Love, Beauty and Abundance. Venus is in Cancer at the New Moon. Venus seeks security here. It is your destiny to live an abundant life. You are here to have it all. You do not get what you want. You get what you believe. What do you believe is possible for you?
You say you want financial freedom but you do not have it. Did you know that resistance blocks you from receiving what you want? Everything is energy. Everything is a vibration. You are energy. The energy you send out, are the results you beg back. Is money flowing to you? Are your feeling stuck? Let us get your money machine going. If you are already in gear. Let us get it revved up. Take your Love and Money to the Top. Take charge of your life. We will be discussing the blocks in your financial success. I would love to see you in my upcoming Love and Money webinars in June. We will focus on your Financial Freedom. You can lean about your money planets and money houses. Timing is everything. Know when your time is ripe to attract your greatest abundance. It is good to know when times may be lean and you have to make do with less. You can always improve your attraction power from where you are now. The only place to go is up when you hit the bottom. "Whatever the mind of man can conceive and believe. The mind of man can achieve." — Napoleon Hill
• Do believe that money is wicked?
• Do you believe that having money blocks your spiritual growth?
• What is the story that you tell about your money?
• Is it time to tell a new positive story?
• Do you feel that you are worthy of abundance?
Saturn is opposing the New Moon. Where are you out of balance? Balance is the key. Not going to extremes. Instead, practice patience and perseverance. This is a wise strategy in May. Your wealth is in your health. The better feel the more you can do. The more fun you can experience. You are alive to live a Joyful life. Your mission in life is to spread Joy.
Mercury turns retrograde five hours after the New Moon in Taurus. Adding another layer of potential frustration or delays. Mercury will retrograde from 13 to 4 degrees Gemini. He will be in reverse until June 11. You can go here and use the Navigating Mercury Retrograde tool. He is in reverse for 10 weeks out of the year. You cannot stop living. You cannot stop life. You do not want to stop business. It is wise to double check the details. The devil is in the details when Mercury is retrograde.
The sun enters Gemini on May 21. This lightens your life up! Planets enter Gemini and the first energy they meet is Saturn in Sagittarius. This will provide a heavy dose of reality. Take your time. Watch your energy level. There is less energy to work with when Saturn opposes the Sun. Focus y0ur attention on what is important and let go of distractions.
Venus will oppose Pluto on May 21 bringing up trust issues in relationships. There is a potential for power struggles. Venus squares Uranus on May 25. What have you been tolerating? Is it time to raise your standards? You want to love you more than the need to keep people in your life. You cannot attract prosperity if you do not value your own self-worth. Self-love is the greatest love of all. Love you. Nurture you. Only then will you have love to give to people. You cannot give love if you do not love you completely.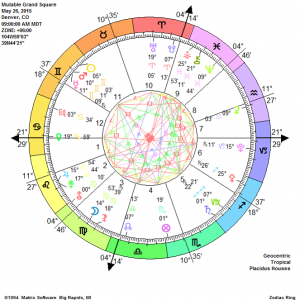 There is a mutable grand square the last week in May starting on May 25. This happens between the Sun and Mars in Gemini, the Moon in Virgo, Saturn in Sagittarius and Neptune in Pisces. The Saturn Neptune in challenging aspect is creating a frenetic energy. This may create extreme restlessness. Scatter brains. Indecisiveness. Do not worry about the future. Be here now. Your power is in the here and now. When you go out into the future, you are not there yet. This will scare you. Your power is in the choices you make today. Allow the future to take care of itself. Watch out for overloading yourself. Trying to do too much can be exhausting. You can feel pulled into too many directions. Take your time and set your priorities. Less is more. Respect your limitations. They are tools for managing your life.
Mercury will couple with Mars in Taurus on May 27. This can give your ideas extra energy to accomplish much. Go forward in your life. Go for your heart's desire. Go after your dreams. Do not wait. Initiate. Take action now. This will empower you to stand up for your truth. It will be easier for you to draw boundaries and say no. Make friends with the word no. It is your ally. Less is more. You often see Mars coupled with Mercury in the charts of lawyers. People who fight for the rights of others. People who are great debaters.
The Taurus New Moon Message is love you and your gifts. "Loving yourself is a choice you make by using loving thoughts, words and actions to support you." — Ivo/Lisa Dorr Wherever Taurus lands in your natal birth chart is where you are having this New Moon. Taurus reveals your  talents. These abilities you want to leverage in this life. They can create great abundance for yourself. Your gifts reveal your past life attainment that you have brought forth into this life. Nourish and nurture your gifts. Develop your gifts.  Saturn says be a wise steward of your talents. Value what you have. Value you. Cherish your life. You are blessed. Sing Baby Sing.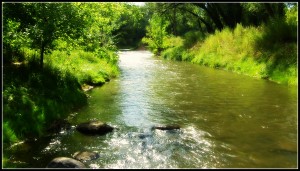 "A world of abundance surrounds you, if you will only step up and claim it. Make life happen through you rather than letting it happen to you. It will make all the difference in the world." — Ralph Marsto
   Live Events with Kelley Rosano

 Where you can interact, ask questions and receive live group coaching!
Kelley will be using astrology and attraction principles as part of each event.
Love, Astrology and the Law of Attraction
Tuesday June 23, 2015
Noon MDT
Money, Astrology and the Law of Attraction
Thursday June 25, 2015
Noon MDT
  Your May Kelleyscopes are live!

Thank you for liking, favoring, sharing, Google+ and subscribing!
You Are Awesome!

Your June Horoscopes are up!
For a detailed look into your personal, relationship, spiritual, health and financial astrology
Schedule Your Astrology Session
Happy Taurus New Moon!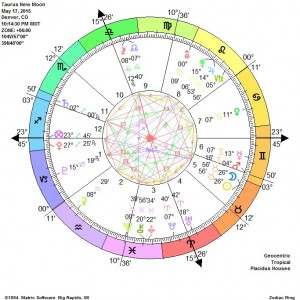 Astrological Events
Taurus New Moon May 17
Mercury Retrograde May 17 – June 11
Sun enters Gemini May 21
Venus opposes Pluto May 21
Sun oppose Saturn 22
Venus square Uranus May 25
Mars square Neptune May 25
Retrograde Mercury conjunct Mars May 27
Sun conjunct Mercury May 30
Sun square Neptune May 31
   Do you have a problem, challenge and/or an opportunity that you want coaching?
Schedule Your Coaching Session